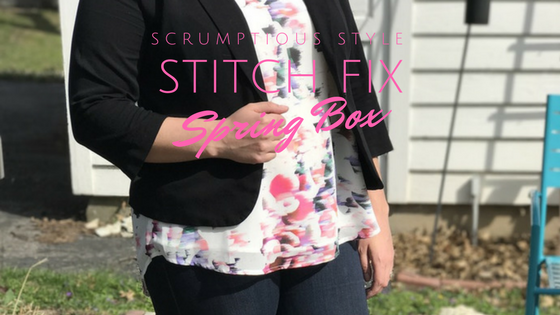 With all the craziness of life (i.e Brad's autoimmune disease), Stitch Fix box reviews have fallen off my radar. If you have time to burn or are new to Scrumptious Style, check out the past looks from Stitch Fix – Box 1, Box 2 and Box 3. You will not be disappointed with the detour, but remember to come on back to check out my latest box.
This past box was too cute to pass up reviewing. Plus my photographer was feeling up to enjoying a nice day and taking some pictures with his new iPhone 7 plus. It was a win, win. He could play with his new toy and I could share my styling of already cute pieces.
This Stitch Fix box hit my style perfectly. Almost a bit too perfectly as I already own almost identically pieces. It was hard to choose what to return this month as I could see myself in all of the pieces. It came down to really nit picking points as I am trying to fill my closet with pieces that I absolutely love and can not live without instead of the usual this looks good and is a decent price model.
The two pieces that I picked definitely fill a void in my closet and hit upon the absolutely love bucket. Check out Stitch Fix today to start filling your closet with pieces that you love!

Your Story – Hazelton Split Back Top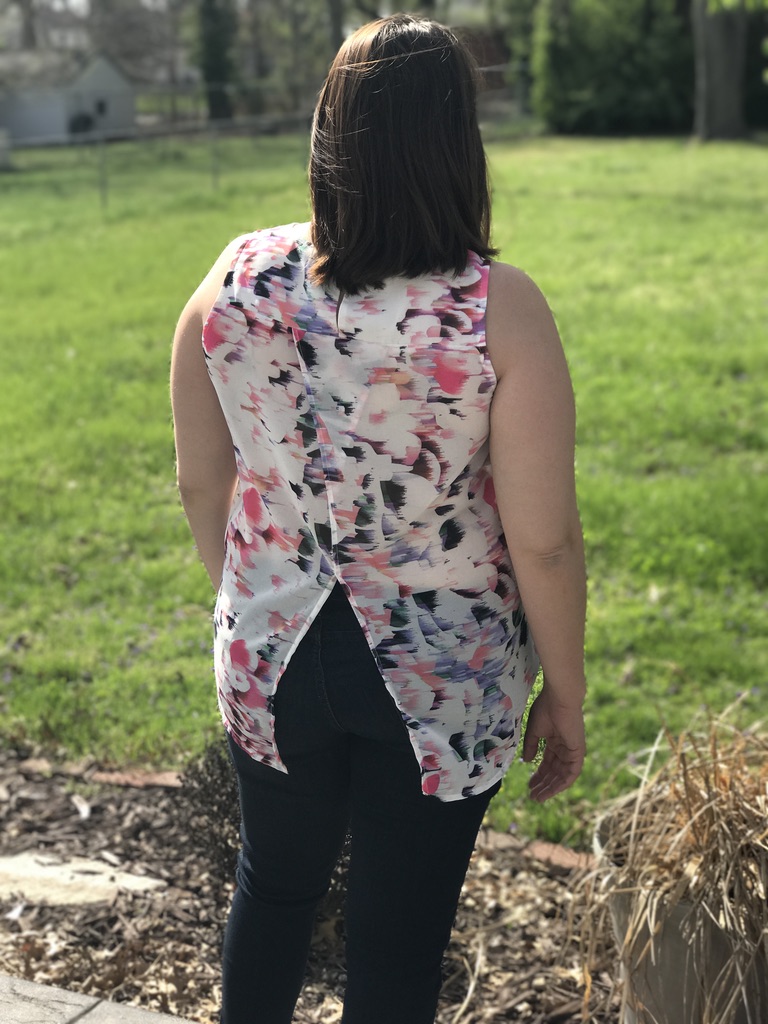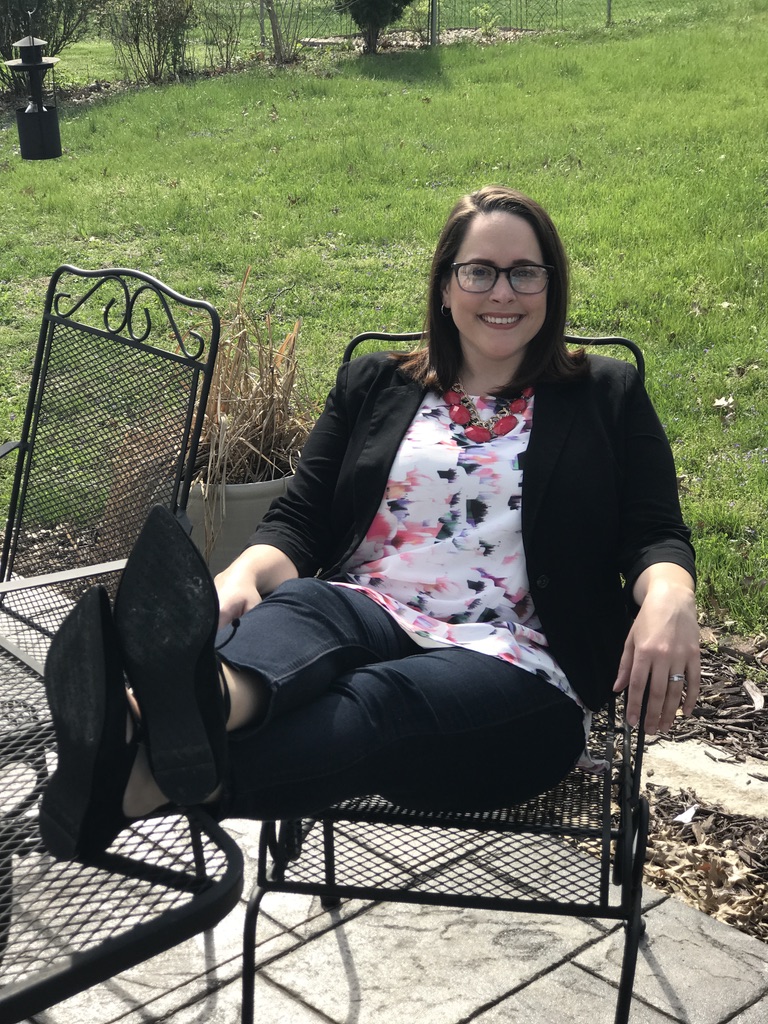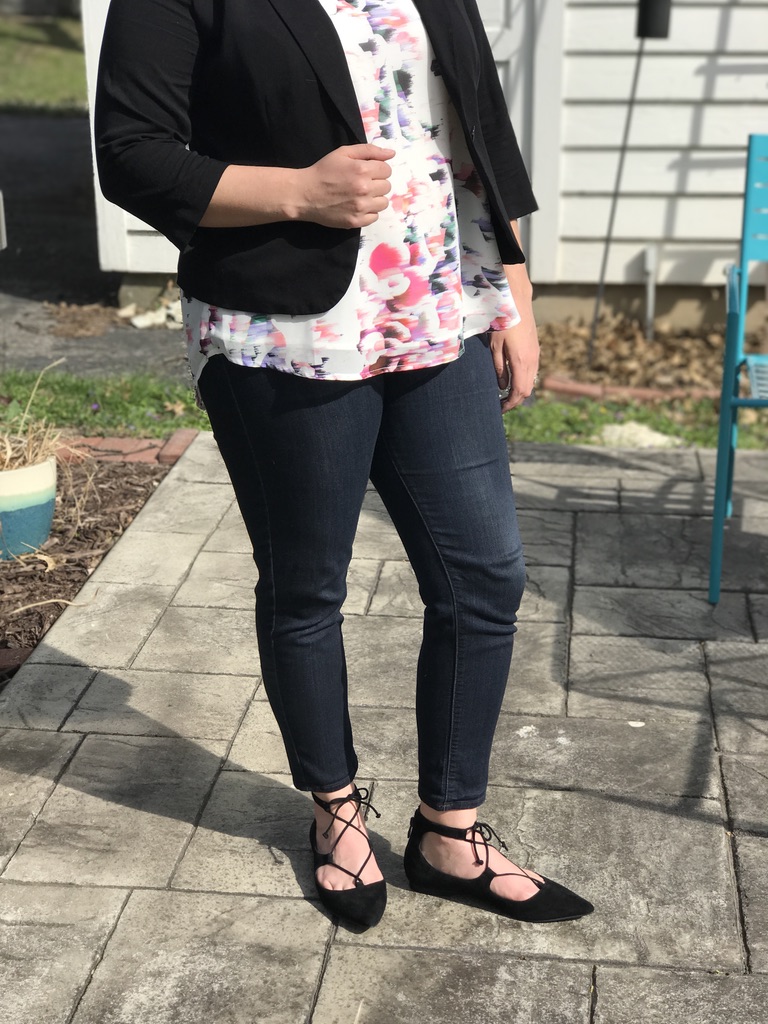 This shirt is on point with my style, but I am a bit conservative about bearing my back. As this shirt had an open back that displayed my bra and lower back, I decided to return it.
Yes, I could have but a cami underneath it, but I struggled with matching the right hue. If not for the exposed back, it would have been a darling work shirt. The pastel colors were perfect for Spring and reminded me of a watercolor painting. It was delicate but drew attention with its understated details.
To keep to my new rule of only buying pieces that I can't live without, the Your Story -Hazelton Split Back Top was returned.
Just Black – Corrine Distressed Button Up Fray Hem Skinny Jeans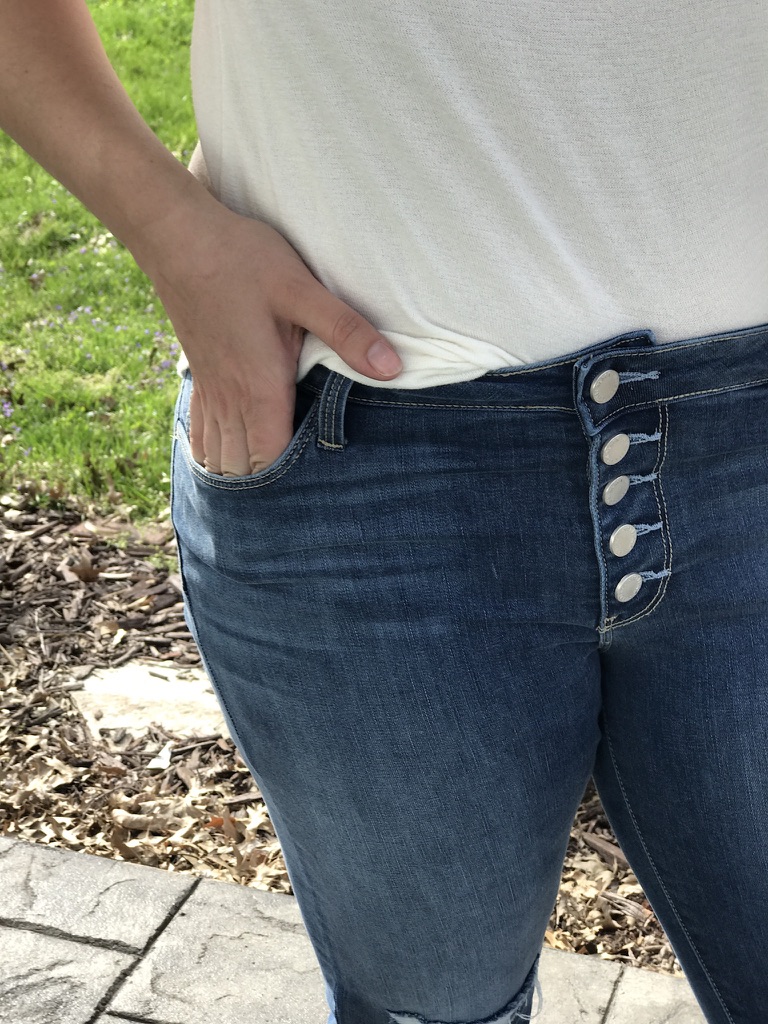 These jeans were so comfortable. They were the perfect amount of stretch while keeping the skinny shape. Out of all Stitch Fix items, the Just black line is my favorite. It can be difficult for a woman like me to find jeans. I am short, a little curvy and like high waist pants. Not to be trendy, but to ensure you don't see underwear peeking out. The kicker is, you can't buy this line outside of Stitch Fix.
So while I loved the feeling and this line, the Just Black – Corrine Distressed Button Up Fray Hem Skinny Jeans wasn't a perfect match. I will have to wait until my next Stitch Fix box to try a new style.  In the end, they were returned for three simple reasons:
I put my foot through the trendy knee hole when putting them on. If I did it the very first time, I knew that it would be a continuous problem. That barely there peak of skin would be a gaping hole within a few wears. 🙂
It didn't have a zipper. I know this sounds crazy, but I kept thinking about wearing this to a bar and having a couple drinks. Who has time to unbutton all of those when you really need to pee? The lack of zipper could have lead to an embarrassing story. Illogical, I know, but a real fear.
They were $88 dollars, and while that isn't much money for jeans that I love. I couldn't justify spending the money when I had two legitimate issues with the style.
Tahari – Estyn Lace-up Pointed Toe Flat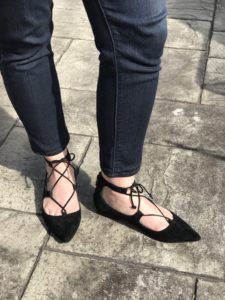 I basically own the Tahari – Estyn Lace-up Pointed Toe Flat shoes. Clearly, I loved the style so much that I already bought them this summer. They were very comfortable, but no need for a duplicate in my closet. 🙂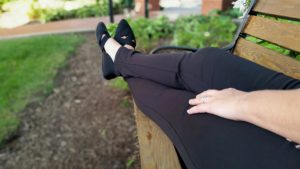 Market & Spruce – Magali Dip Dye Hi-Low Knit Top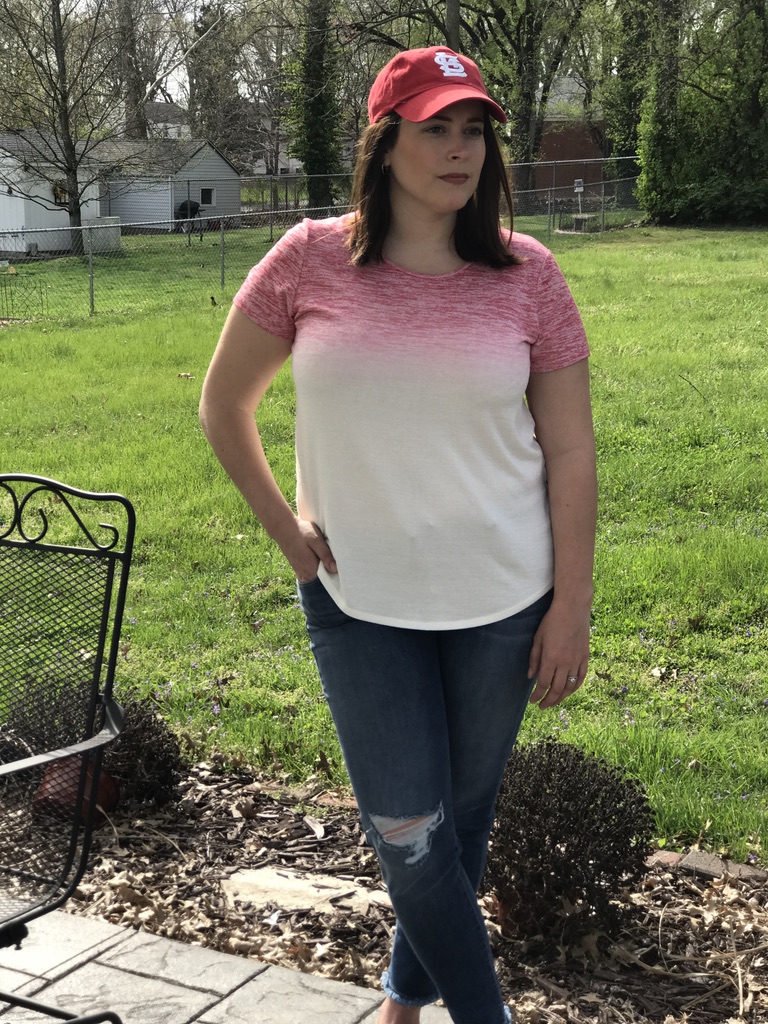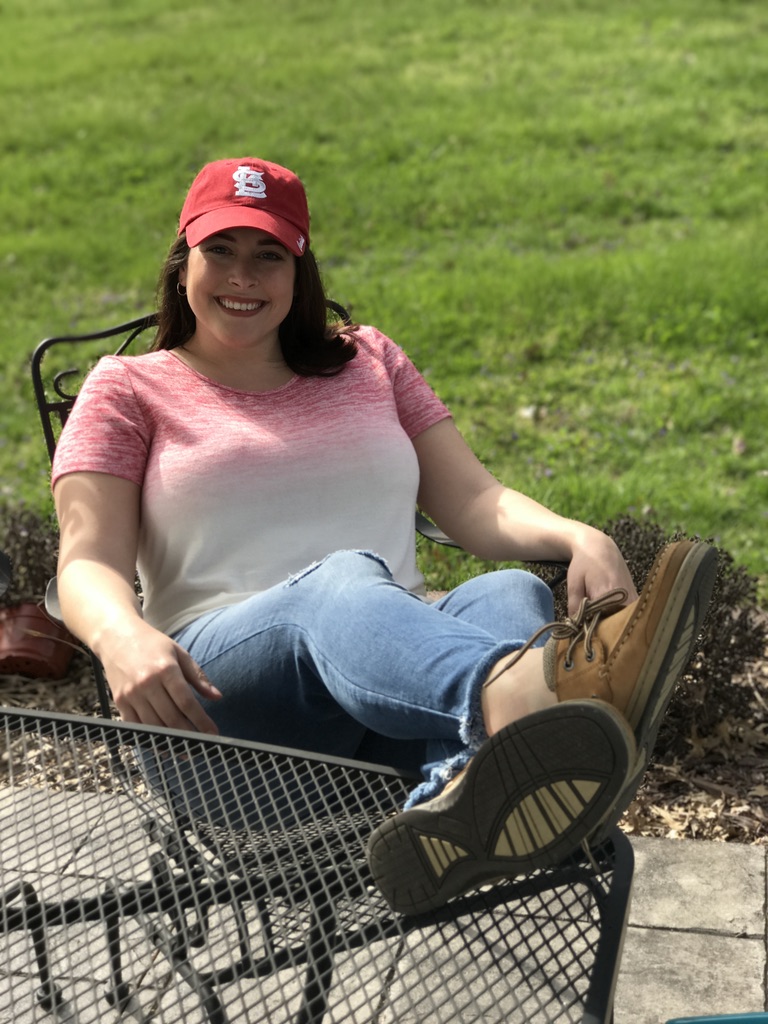 This shirt was a keeper. The Market & Spruce – Magali Dip Dye Hi-Low Knit Top is different from everything in my closet. It is flirty, comfortable and bit more dressed up than my go to Cardinal T-shirt. I thought this would be a perfect piece to add at the beginning of the Cardinal season.
I have worn it two times in the past two weeks. 🙂
French Grey – Charla Cold Shoulder Dress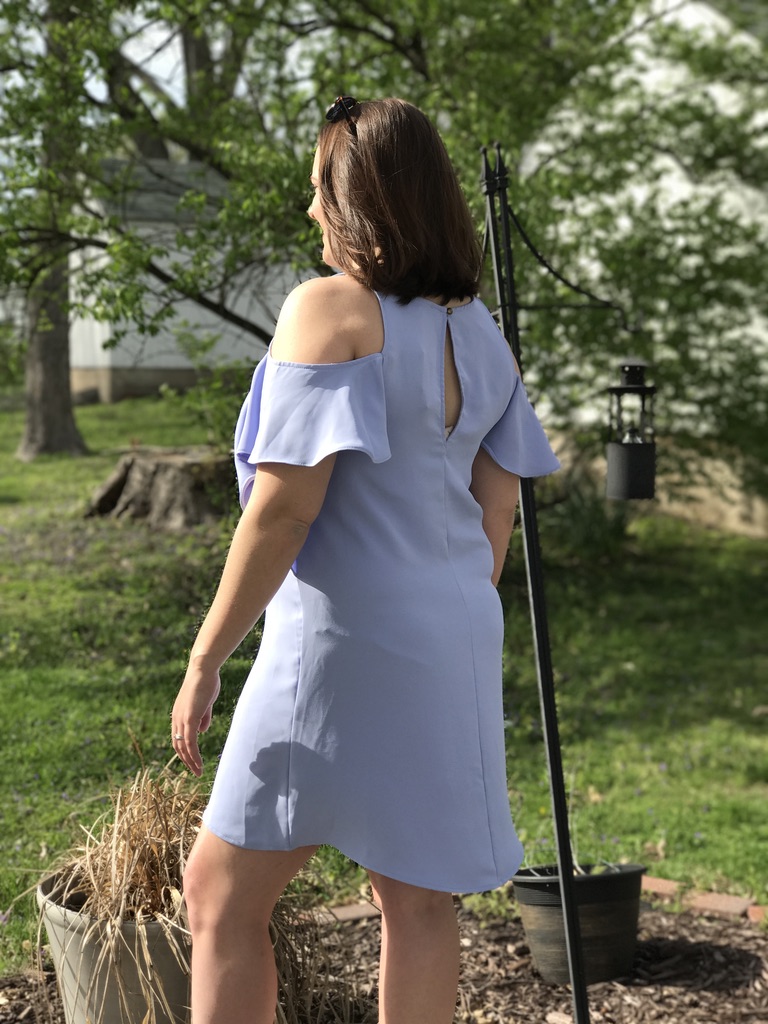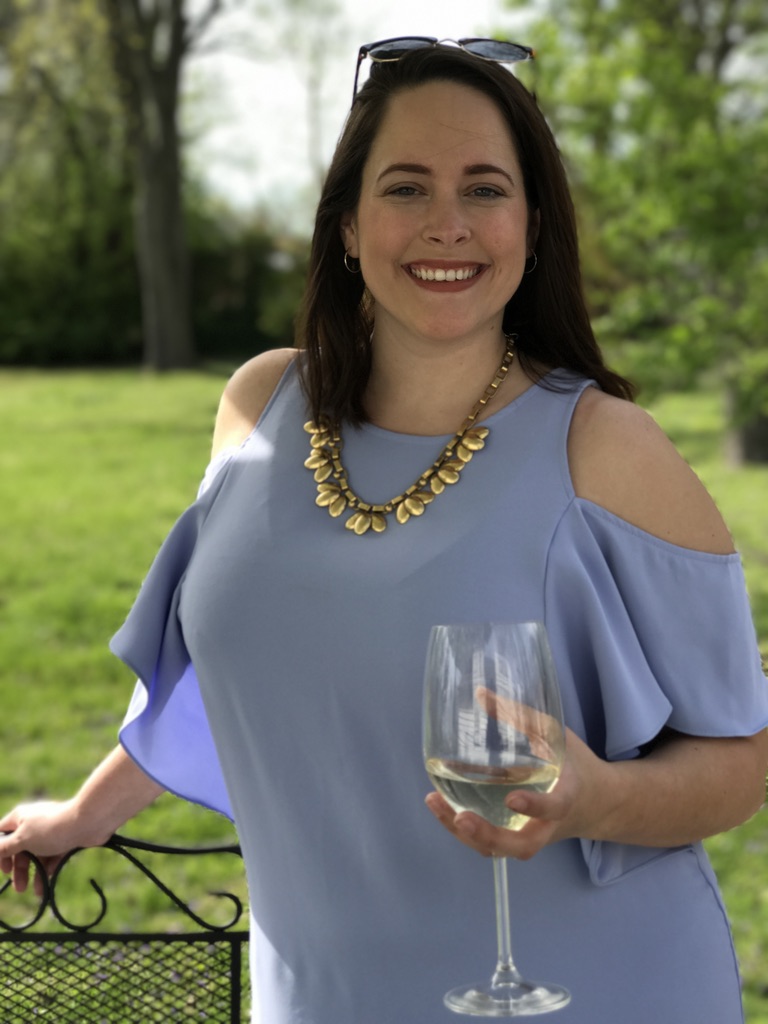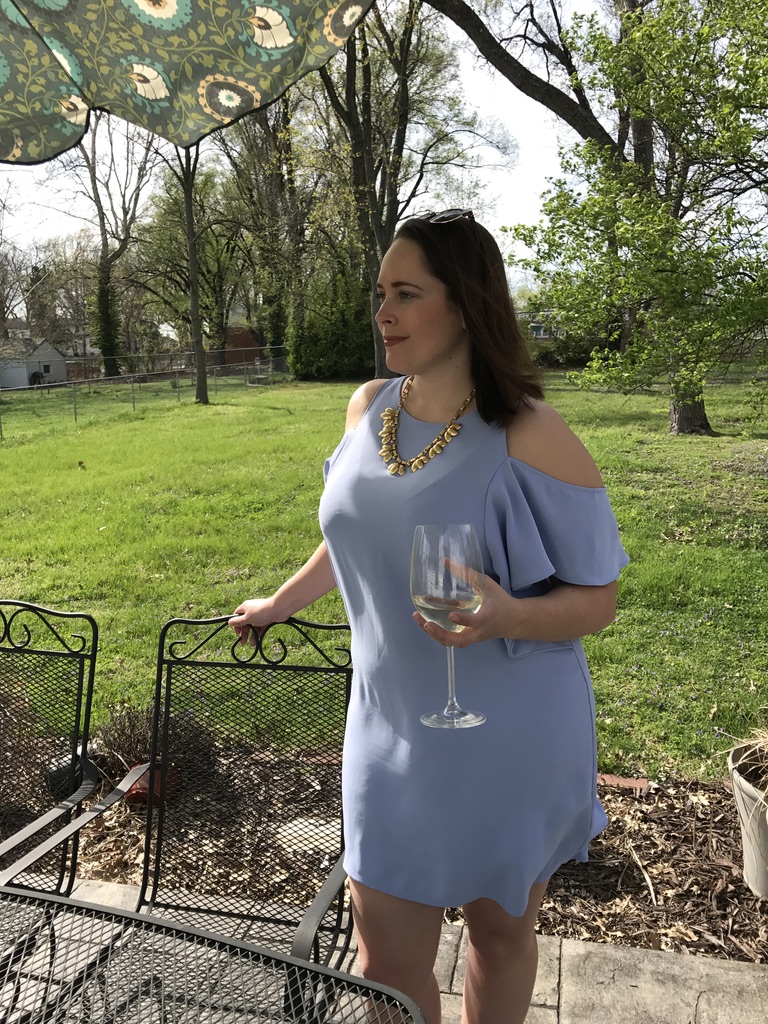 When I first saw the French Grey – Charla Cold Shoulder Dress, I was a tad concerned. This outside of my comfort zone with the ruffle accents. I told Brad that the color was perfect, but they went and destroyed it with the arm accents. Like many pieces outside of my comfort zone, it grew on me. As the week went on, I kept peeking at it and slipping it on.
By the day we took photos, I was sold. It is bold and outside of my norm, but who can pass up that color! Plus, I have some summer weddings where this number might be showcased this summer.
Brad always has the last "accept or veto" power. He liked the French Grey – Charla Cold Shoulder Dress from the moment I tried it on and patiently waited for me to catch up. 🙂
Disclaimer | I belong to the Stitch Fix Influencers affiliate program, which means that for every person that signs up for a Fix through my affiliate link, I receive money toward a future Fix. Thanks in advance if you try it out!
http://scrumptious.style/wp-content/uploads/2017/04/Stitch-Fix-Box-4.png
315
560
Nicki
http://scrumptious.style/wp-content/uploads/2016/06/ScrumptiousStyle-Logo-300x73.png
Nicki
2017-04-21 11:44:15
2017-05-08 16:43:42
Stitch Fix Box #4