I have started to track my life by time in between Stitch Fix Boxes. I get one per month, but every time I blink, I feel like I am sharing my newest box and adding a few more Stitch Fix pieces to my collection. They say as a parent; the days are long, but the years are short. I would say it is the same of your late twenties.
So here we are again, a month later with failed dieting to lose the last ten pounds, a few more gray hairs and on the quest to build the perfect closet.

This month, I asked my stylist to help me prepare for my upcoming trip to San Francisco which will consist of three parts – downtown San Francisco, Northern California hiking and Napa Valley. It will be a difficult task to pack the wide variety of outfits needed to satisfy this trip all in a carry-on, but that will be an adventure and blog for another day!
Liverpool – Anita Skinny Pant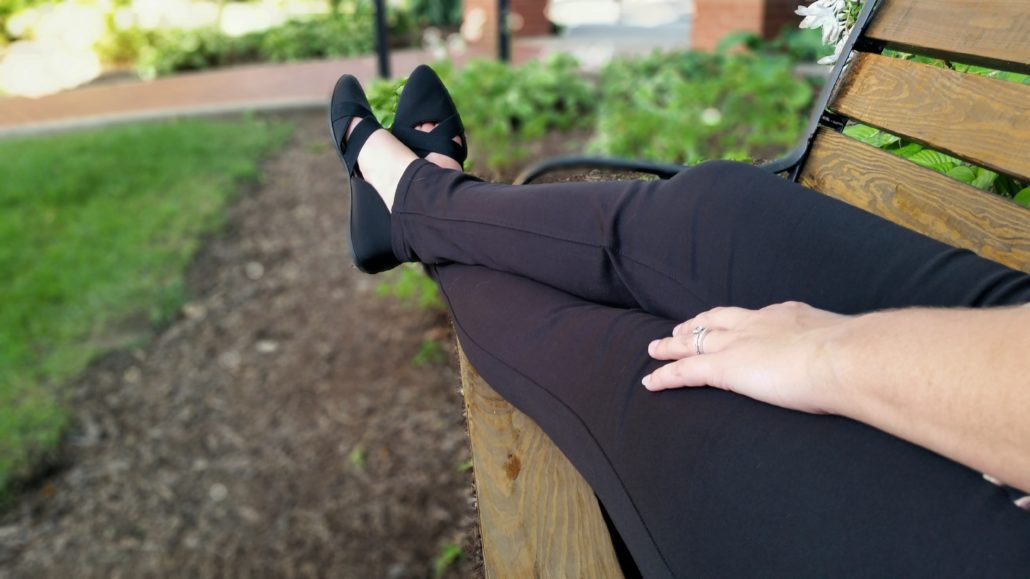 The pants fit like a dream, but I didn't need another pair of black pants, so they were returned.
41Hawthorn – Meera Split Neck Top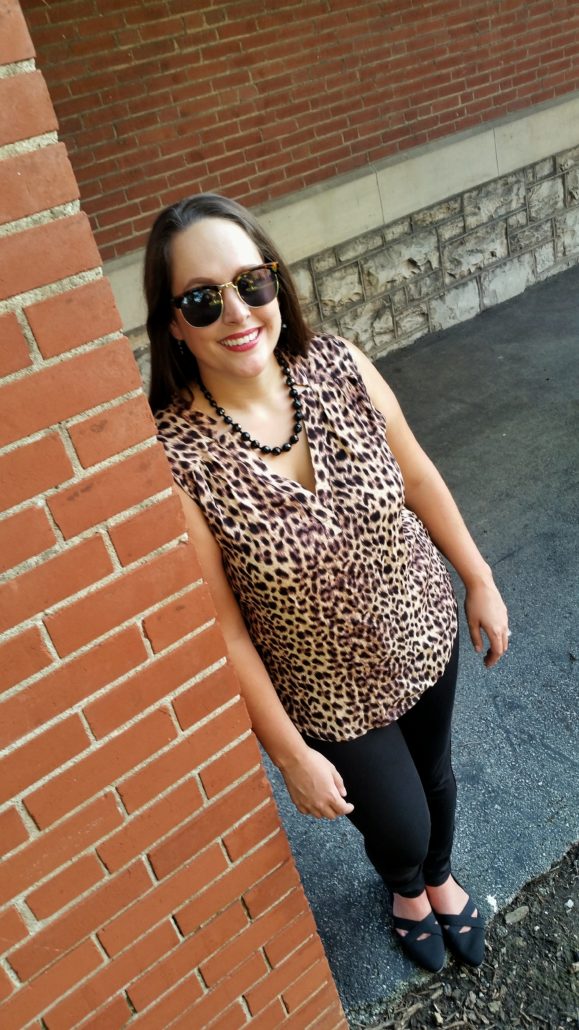 I enjoy that Stitch Fix is always pushing the boundaries of my personal style. I would never think that I could rock animal print, and would not purchase it on my own. From the feedback I have provided and my style profile, my stylist at Stitch Fix thinks I am bold. I was cautious to get that far out of my comfort zone, but the shirt was very comfortable and screamed confidence.  In the end, the shirt was returned. As much as I liked it, I am not bold enough to get sufficient use out of the shirt.
Skies Are Blue – Becky Cutout Detail Blouse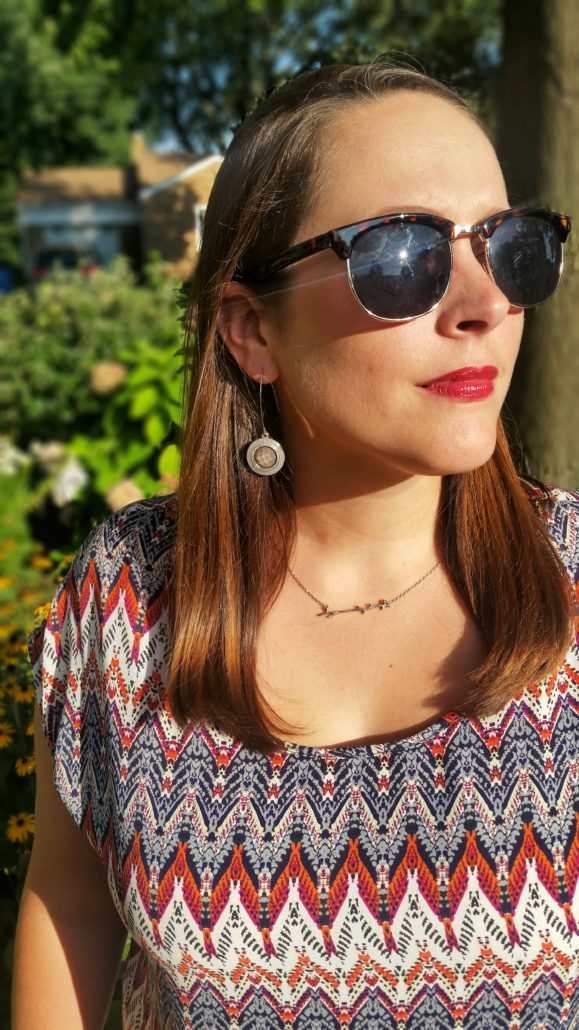 Skies are Blue – Becky Cutout Detail Blouse was almost in the return pile, but Brad raved at how well it fit me. While I loved the cut and thought the pattern and back cut outs were amazing touches and my style, I didn't want to purchase two almost identical cut shirts. 41Hawthorn – Carla Crochet Detail Blouse is very similar and to be mindful of my shopping habit (self-imposed of course) I was only going to keep one. Thankfully, I listened to my better half and kept it. It is the perfect work to drinks with friends shirt which is where most of my purchases have been focused recently. A shirt that can transcend different parts of my life is certainly a keeper.
41Hawthorn – Carla Crochet Detail Blouse
I would call the 41Hawthorn- Carla Crochet Detail Blouse, the sister shirt to Skies Are Blue – Becky Cutout Detail Blouse. They are very similar, cute and oh so comfortable. I immediately fell in love with the color. It is vibrant, bold and adorned with small details that provide it with a subtle complexity that screams of my fashion sense. I like to wow you with the simple details from cutouts of a shirt, unique pattern or creative layer of jewelry. This was a piece that was bound to become a new staple in my wardrobe. Just like Skies Are Blue – Becky Cutout Detail Blouse, it has the initiate ability to go from work to after work functions which is becoming increasing important as my nights are ruled with visiting with friends, church functions and volunteering.
Pixley – Millie Textured Knit Dress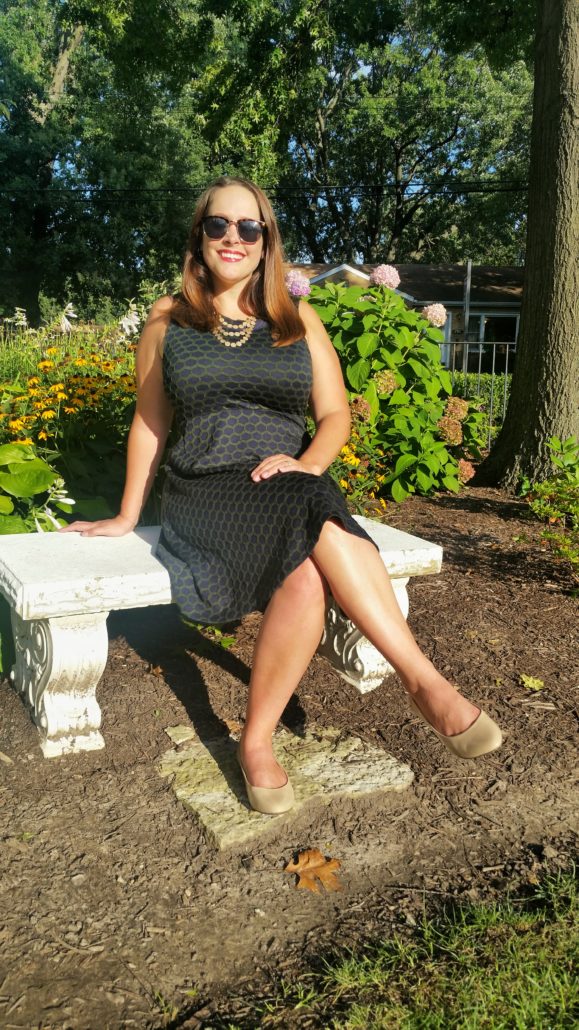 I asked my Stitch Fix stylist to send a dress that could be worn for a September wedding and possibly a gala in Napa. She sent a dress that fit like a dream with good structure and a little stretch to hide my extra helping of wedding cake and an extra drink. What I loved more than the dress was my stylist spending extra time to think about the feedback that I had previously sent. Her note was perfect and shows the pride Stitch Fix takes in styling each person based on their needs, personal style and body style.
Hi Nicki! I had fun styling you today! We are actually close to the same size! I noticed the dresses send in the past have been a bit snug. Let me know if you would like to size up for the Millie Textured Dress. This pretty dress will work well for your gala and wedding and any upcoming holiday parties later this year.
As always, I am overwhelmed by Stitch Fix and their ability to get to know me and my style even through the many miles. Each box is a bit more refined and allows me to test the water with a new look I would never dare to try. I love Stitch Fix because it helps me evolve my look without being the 27-year girl trying to be too teeny bopper trendy…we are on this delicate line, and Stitch Fix is the expert of walking it with grace, hipness and appropriateness for my fuller woman frame.
http://scrumptious.style/wp-content/uploads/2016/08/20160817_183433-01.jpeg
2988
5312
Nicki
http://scrumptious.style/wp-content/uploads/2016/06/ScrumptiousStyle-Logo-300x73.png
Nicki
2016-08-28 19:41:25
2016-08-28 20:02:25
Stitch Fix Box #3