Dirt Candy Supper Club hosted by The Foodie Nurse was the perfect way to start a relaxing weekend after an extra long week. It set the tone just right!
Today has been a much needed lazy morning with kitten snuggles and procrastinating getting out of bed. After many failed attempts, I threw on a cards shirt and yoga pants to do what I love most Saturday blogging.
I even feel like a real hip blogger because of the past 24 hours. Not only am I blogging on Brad's new Mac at our favorite coffee shop, but last night, my mind was opened to a whole new type of dining experience, and I have to share it with you! Have you every heard of a pop-up dinner? Neither had I, but after last night, it will be a staple in our social calendar.
The concept of a pop-up dinner is really simple while being a unique experience every time.  Pop-up dinners like Dirt Candy Supper Club are a one night only event that brings like-minded individuals to a unique venue or at the host's home to enjoy brilliant conversation and even better food.
Dirt Candy Supper Club
Brad and I had the pleasure of joining fellow bloggers last night, VogueRhytym and The Foodie Nurse and strangers from all across the St. Louis region for the latest version of Dirt Candy Supper Club.
Dirt Candy Supper Club is a monthly dinner party featuring a 5-course, plant-based healthy meal prepared by Katy, the brilliant mind behind The Foodie Nurse. The meal centers around high quality, locally grown and organic ingredients for only $35!
I will be honest, I was a little skeptical about the plant-based meal. I didn't know what the menu would hold and we all know that I can be a picker eater. My nerves were calmed by the first mouthwatering course and every course was more exciting than the last!
Grilled Watermelon and Tomato Salad
The first course was made of homemade almond feta and combined two fruits I would have never thought of combining, watermelon and tomatoes. For those who are thinking, I am crazy, Brad did just verify that a tomato is a fruit. 🙂 The dish mixed the richness of the cheese with the crunch of the pistachios and the sweet and tang of the fruit. This was all topped off with arugula microgreens and balsamic glaze to make the dish divine. It was a delightful shock to my taste buds and set the night off right!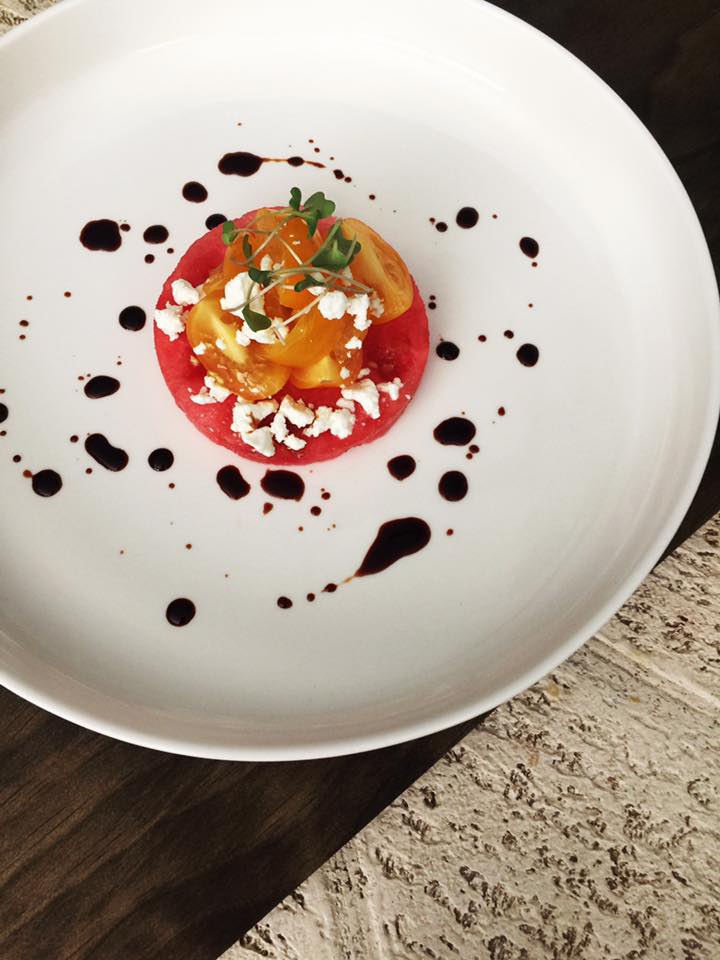 Caprese Crostini
After the first course, I was feeling more confident in the theme of this pop-up dinner. When the Caprese Crostini came out I was down right excited because this was a "safe dish" and gave me the ability to ease my way into unknown territory!
Cashew "cheese" blistered tomatoes and basil topped Union Loafers scrumptious bread. This course was so fresh and consisted of basil and tomatoes from a friend's garden. Can you get any better than that? The basil filled your nose with delight as you bit into the crunchy bread, smooth "cheese" and juicy tomatoes. My taste buds are doing a happy dance and I am thinking plant-based living might not be that bad. 🙂 Obviously, Katy eats much better than my standard sloppy joes.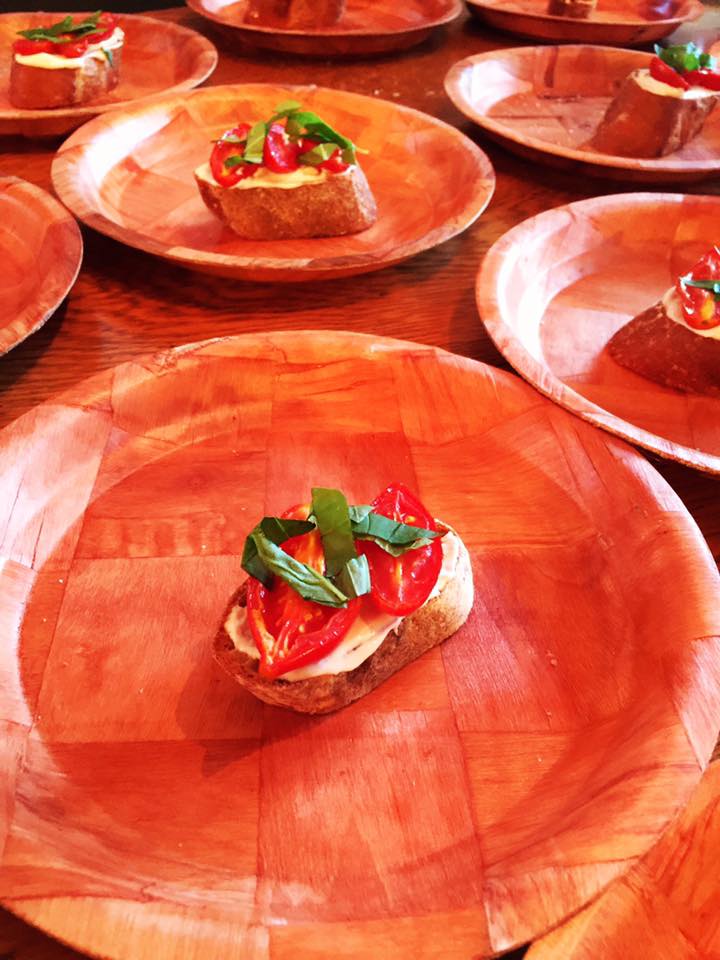 Chilled Cucumber Yogurt Soup
The Chilled Cucumber Yogurt Soup with charred bell peppers was loved by all the table. Katy had an adventure with the soup in the morning as the first batch went all over her stunning white cabinets after the blender was accidently tapped on without the lid. Clearly, this soup was destined to be bold and catch everyone's attention!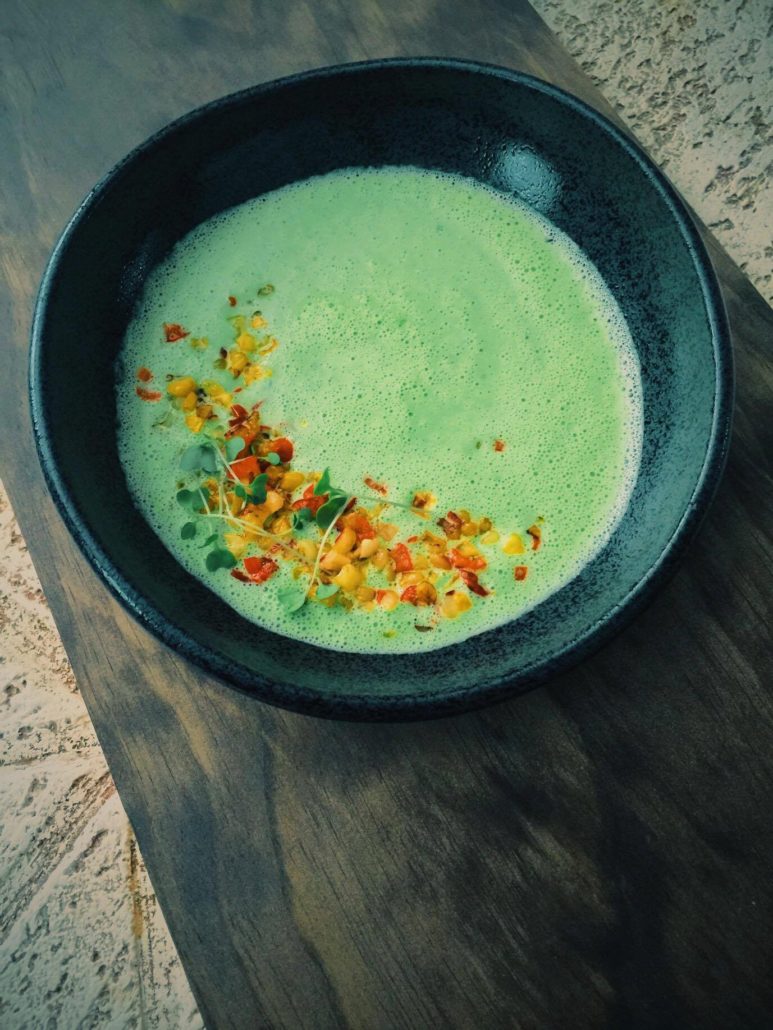 Summer Sweet Corn Polenta
Everyone raved that Katy's polenta was the best they ever had, which included 3 vegans and a professional chef. I had never had it before, so I took their expert opinion. 🙂 The polenta was rich and smooth which made the perfect base for the smoky, crispy chickpeas and zucchini. The perfect bite which included all three ingredients was such a beautiful mixture of textures and taste. At this point in dinner, I stopped talking and focused solely on enjoying every last bite of this breathtaking main course.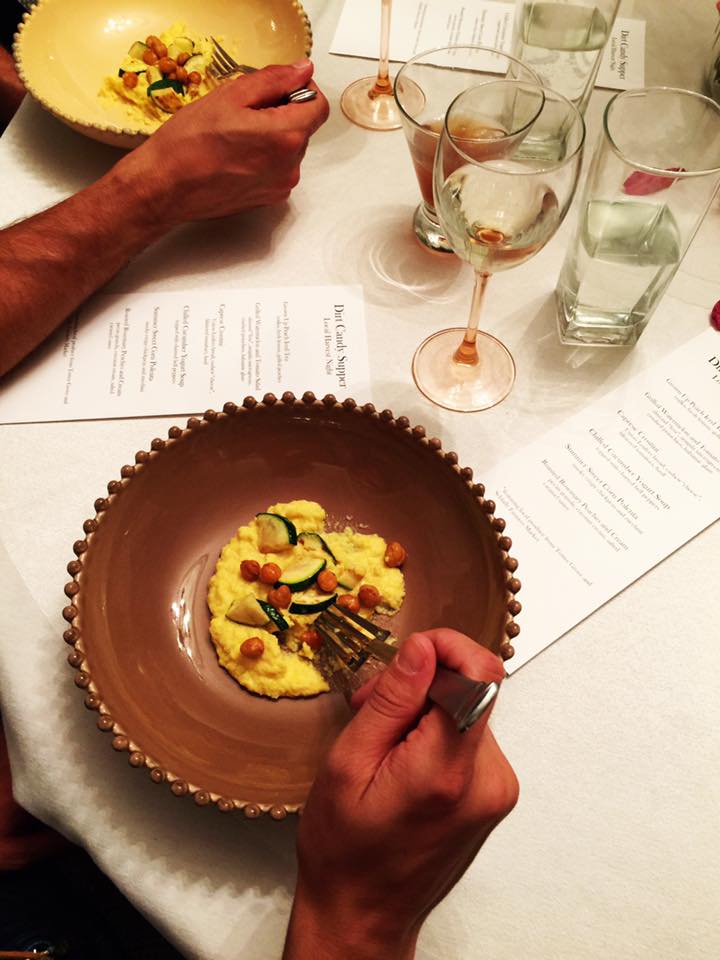 Roasted Rosemary Peaches and Cream
After many delicacies, we were finally at the last course. This, in my opinion, was the best course. Clearly, I am biased because I would eat dessert for every meal for the rest of my life if my pants would fit. 🙂
The dish had all the usual fixing in a healthier manner. The pecan granola to fulfill your crust needs, coconut cream as your ice cream and caramelized caramel sauce because everything is better with caramel. What shocked everyone was the addition of rosemary! Rosemary and peaches should be paired together every day. Rosemary has a unique pine-like fragrant flavor that is balanced by a rich pungency that paired perfectly with the sweet peaches.
On the way home, Brad and I raved about Katy and the amazing night we had at Dirty Candy Supper Club. I can't wait until next month to see who comes and what mouth-watering meal Katy will create. To attend the next Dirt Candy Supper Club or host your own, email katyhacker@gmail.com. Her cooking and charm will certainly make your night!
Keep your eyes peeled, I have a feeling Scrumptious Style will be teaming up with The Foodie Nurse soon to bring you plant-based healthy meals, and possibly a pop-up meal right here is Florissant. A beautiful co-venture between brilliant design and food to make a memorable evening. Would you join?
---
Interested in having The Foodie Nurse cook for you and your friends? Contact Katy to start planning your event. Follow Katy and keep an eye out for the next Dirt Candy Supper Club!
http://scrumptious.style/wp-content/uploads/2016/08/Dirt-Candy-Supper-Club-e1471726934281.jpg
1080
1349
Nicki
http://scrumptious.style/wp-content/uploads/2016/06/ScrumptiousStyle-Logo-300x73.png
Nicki
2016-08-20 16:06:34
2016-08-22 21:39:51
Dirt Candy Supper Club