So what is a girl to do when her husband is out of pocket for the weekend, call up her Mom and take a Brunch at Tiffany's cooking class! While there are a variety of cooking classes in St. Louis, The St. Louis Community College's Continuing Education is my favorite. This past weekend, my Mom and I took Brunch at Tiffany's which was hosted by you guessed it, Tiffany! The class description alone inspired me to learn some new dishes, and the class didn't disappoint.
My love of breakfast quickly turned into breakfast cooking hubris. It all started with mastering the meanest breakfast burrito you will ever taste. 🙂  Believe it or not there was a time that I couldn't cook anything besides breakfast. It was cheap and hard to mess up in college. So clearly, I thought this class was a perfect way to add new recipes to my favorite meal of the day.
Brunch at Tiffany's is held at a small house owned by the community college off of Hampton. It is a unique setting that allows for a smaller class with close views and tons of hands-on opportunities. While I have taken a few classes in this space, no one does it like Tiffany at Brunch at Tiffany's. Tiffany's mom, who was visiting, cheerfully welcomed us into the home. Both women made the space warm as if I was being welcomed into their very own home.
Once everyone (all 12 of us) were settled into our seats, Tiffany spent some time sharing her story and learning more about us before starting the Brunch at Tiffany's class. Tiffany, just like me, has a love of cooking without the formal training. She has worked in many catering spaces, a professional baker and even had her own diner, but never went to culinary school. You know I love this because brilliant cooks can happen both in and out of a formal setting. Tiffany certainly has knowledge, skill and passion! As the room was filling with the aroma of bacon and baking muffins, she let the class bounce ideas off her and I learned a thing or two.
Brunch at Tiffany's showed us how to cook four recipes that are bound to wow any guest. The recipes presented were award winning recipes from B&B from across the nation. Tiffany focused Brunch at Tiffany's for all taste buds, having both savory and sweet options with and without eggs. Brad is still on the fence about eggs so eggless options are a hit at the Wester household.
Brunch at Tiffany's Menu
Breakfast Pot Pie with Cream Sauce from Gateway Guesthouse in Austin, TX
Ingredients
1 Recipe Pastry Crust
4 tablespoon Olive Oil
1 Zucchini – medium, zliced on the diagonal 1/8-inch thick
2 Roma Tomatos, sliced 1/4-inch thick
4 tablespoon Cream Cheese, at room temp
1/2 cup Spinach, chopped
6 Eggs
4 slices Proscuitto
1 cup Heavy Cream
2 teaspoon Parmesan Cheese
4 tablespoon Parsley, minced
Recipe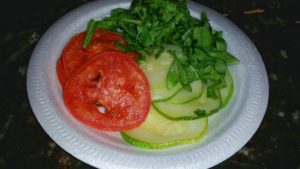 Prepare the pastry crust (recipe follows). Pre-heat oven to 350. In a medium saucepan, heat 2 TB olive oil over medium. Add zucchini and saute 1 minute, turn and saute 1 minute more. Remove to a plate covered with paper towel sheets. Add tomato slices to pan and saute 30 seconds. Remove to same plate as zucchini. Heat 2 TB more olive oil in same skillet. Add scallions and cream cheese. Crack eggs into small bowl and scramble. Pour scrambled eggs in skillet. Cook, turning, just to a pudding consistency (do not overcook, eggs will finish cooking in the oven). Remove from heat.
Divide pastry crust dough into 4 equal pieces and roll each out to a thin layer. Prepare two single-serve casserole bowls with non-stick spray. Fit a single layer of pastry crust dough into each casserole. Bake 15 minutes. Remove casseroles with dough from oven and layer each casserole with ingredients as follows: 1/4 the chopped spinach, 2 TB egg mixture, 1/4 the zucchini, 1/4 the tomatoes.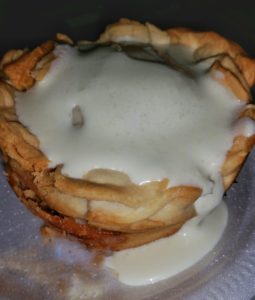 Cover with prosciutto, 1/4 the chopped spinach, 2 TB egg mixture, 1/4 the zucchini, 1/4 the tomatoes. Top with remaining egg. Cover with two remaining pieces of pastry crust dough. Bake 20 minutes, until golden brown.
While pies are baking, heat cream and cheese in a small skillet until cheese is melted. Serve over or on the side of pot pies. Garnish with parsley.
Pastry Crust: 2 cups all purpose flour, pinch of salt, 1/2 lb butter, cut into 1×1 cubes and frozen, 1 tsp distilled white vinegar, 6-10 TB ice water.
Pastry crust instructions: Combine flour and salt in a food processor. Pulse in butter cubes. Transfer mixture to a large bowl. Combine vinegar and water in a small bowl. Drizzle vinegar-water mixture into the flour-butter mixture, a bit at a time, folding with a spatula until the dough just holds together. Form into a flattened ball. Wrap in plastic wrap and refrigerate 6-8 hours or overnight.
Pineapple Ricotta Muffins from Hennessey House in Napa, CA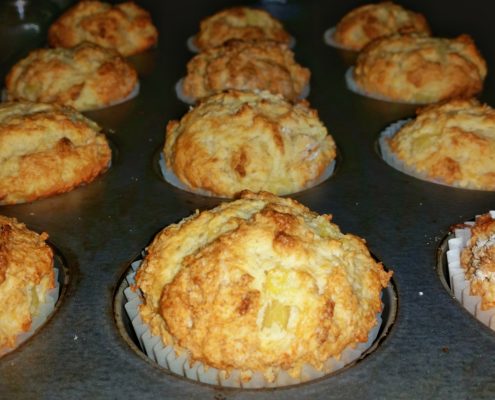 Ingredients
1 Egg
Vegetable Oil
1 1/2 Cups ricotta cheese
1 Cup of crushed pineapple
2 Cups of flour
1/2 Cup of sugar
1 Tablespoon of baking powder
1/2 Teaspoon baking soda
1/2 Teaspoon of salt
Recipe
In a measuring cup, break the egg and add enough oil to make 1/2 of a cup. Measure the ricotta cheese into a large mixing bowl. Add the egg and oil to the ricotta cheese and mix well. Add the crushed pineapple and stir.
In a separate bowl combine the dry ingredients. Add the dry ingredients to the cheese mixture and blend gently just until flour mixture is entirely absorbed. Bake in muffin pan at 400-degree oven for approximately 25 minutes. Let cool in pan for 5 to 10 minutes before removing. The recipe makes 12 muffins.
Lemon Souffle Pancakes from 1851 Historic Maple Hill Manor in Springfield, KY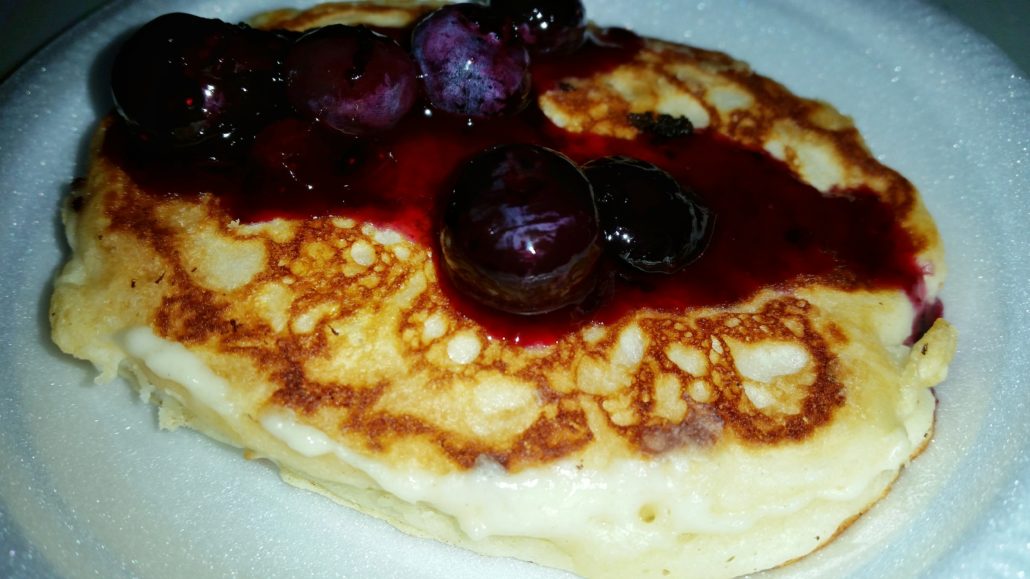 Ingredients
1 1/2 cups all-purpose flour
3 1/2 teaspoons baking powder
1 teaspoon salt
1 teaspoon cream of tarter
1 lemon zest ( grate or zest outer portion of lemon)
1 tablespoon white sugar
1 1/4 cups milk
1 egg
3 tablespoons butter, melted
Recipe
In a large bowl, sift together the flour, baking powder, lemon zest, salt and sugar. After sifting, add cream of tarter and lemon zest. Make a well in the center and pour in the milk, egg and melted butter; mix until smooth.
Heat a lightly oiled griddle or frying pan over medium high heat. Pour or scoop the batter onto the griddle, using approximately 1/4 cup for each pancake. Brown on both sides, creating crispy edges. Top with fresh blueberries and warm maple syrup.
Blueberry Compote Topping (recommended) – 3 cups frozen or fresh blueberries, unthawed (save a ½ cup for garnish), 1/3 cup sugar, and 1/3 cup water. Combine 1 1/2 cups blueberries, sugar and 1/3 cup water in heavy small saucepan. Simmer over medium heat until berries burst, stirring often, about 10 minutes. Add remaining 1 cup berries. Cook until compote coats spoon, stirring often, about 8 minutes. (Can be made 3 days ahead. Cover and chill.) Serve warm over Maple Hill Manor's Lemon Soufflé Pancakes. Garnish with fresh blueberries and powdered sugar for a nice presentation. Recipes serves 8 guest.
Hash Brown Casserole from Orchard Hill Country Inn in Julian, CA
Ingredients
Frozen hash browns
1 small onion, chopped
1 green bell pepper, chopped
olive oil
16 strips of crisp bacon, clumbled
14 eggs
2 cups grated cheddar cheese
Sour cream
Scallions, chopped (as garnish)
7X11 baking dish
Recipe
Spray baking dish and fill it over half-full of frozen hash browns.
Brown one small onion and pepper in a small amount of olive oil and spread over potato mixture.  Follow with bacon.
Place in the oven for 30 minutes (watch so that it doesn't over-brown the bacon and the potatoes are done).
Twenty minutes before serving, scramble the eggs until soft and spread over the potato mixture.  Cover with cheese and return to barely warm oven to melt the cheese.  Top each serving portion with a small scoop of sour cream and scallions.
http://scrumptious.style/wp-content/uploads/2016/09/waffle-84421_1920.jpg
1285
1920
Nicki
http://scrumptious.style/wp-content/uploads/2016/06/ScrumptiousStyle-Logo-300x73.png
Nicki
2016-09-28 15:58:50
2016-09-29 14:02:24
Brunch at Tiffany's