Broccoli Cheddar Casserole is a wonderful vegetable dish hidden in melted cheese, buttered crackers and lots of love!
My holidays are filled with vegetable side dishes that any of the day of the year would be considered unhealthy. Around the holidays with cookies, cakes and pies, Broccoli Cheddar Casserole is always an appropriate vegetable side.
Broccoli Cheddar Casserole is the perfect dish to bring to a family function because you can make it the day before and just pop it in the over right before you have to go. The four ingredient recipe is perfect for someone who wants to make a delicious dish without much work.
Broccoli Cheddar Casserole Ingredients
Broccoli Cheddar Casserole Recipe
Go to the store and get your ingredients listed above.
Pour yourself a glass of wine and hunt in your kitchen for a 9×13 glass pan, two pots and tenderizer. If you don't have a tenderizer, a hammer works well. 🙂
Start cooking the broccoli for the Broccoli Cheddar Casserole. I normally microwave the broccoli with steamable packs as it makes for less dishes. This part does take some time as you are steaming 4 packets separately. Don't worry though, you can do everything else as the broccoli is cooking.
Cut the melting cheese into smaller squares and toss into a pot over medium heat.
Stir the cheese until gooey and ready to pour. You should be stirring on and off until step 11.
As you are stirring the cheese, make sure to keep an eye out on the broccoli packets. As they come out, place the cook broccoli in your glass dish. 
7. Take a moment and have a drink as you grab the butter, hammer and crackers.
8. Unwrap the butter and toss it into you second pot on medium heat.
9. Grab those crackers and give them a few gentle hits until the contents are smashed. Take the smashed crackers and stir them into the melted butter. 
10. Now that all your broccoli is cooked, it is time construct your Broccoli Cheddar Casserole. Take one more drink for good measure.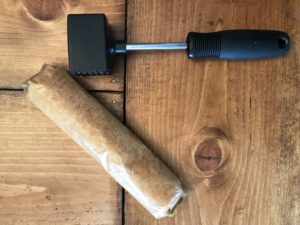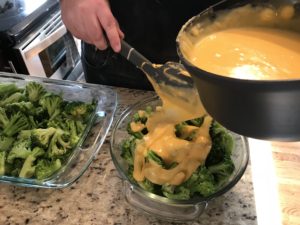 11. Pour that gooey cheese over the healthy broccoli.
12. Top the Broccoli Cheddar Casserole with extra buttered crackers.
When it is time to visit family, turn your oven on and pop your Broccoli Cheddar Casserole into the oven for about 30 minutes on 350.
http://scrumptious.style/wp-content/uploads/2017/12/vegetable-2261024_1920.jpg
1281
1920
Nicki
http://scrumptious.style/wp-content/uploads/2016/06/ScrumptiousStyle-Logo-300x73.png
Nicki
2017-12-25 15:23:48
2017-12-26 21:05:27
Broccoli Cheddar Casserole