Yoga Buzz's Yoga Under the Stars is an innovative way to make your practice social and a memorable night out with friends. Your evening will begin with a star show, followed by yoga in a dark room with the constellations overhead. It truly is moving to be part of this experience and makes me want to find a country field to practice in. 🙂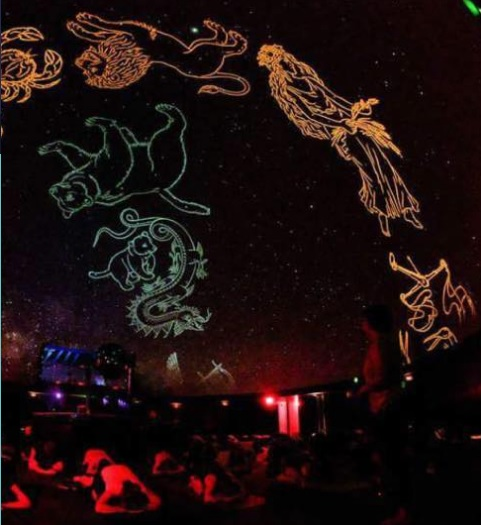 My yoga journey started in the most peculiar way. It was four years ago in a preschool classroom on a whim of joining my Mom. The teacher next door was newly certified and held her class for fellow educators and families a few nights a week. From that moment, my love of yoga began to bloom.
So it is no shock that when a friend asked me to join Yoga Under the Stars sponsored by Yoga Buzz, it was a no-brainer. Yoga Buzz's Yoga Under the Stars was like no other yoga practice that I have ever experienced. It was bit surreal, to be honest. You really felt like you were outside on a cool summer night practicing with 100 of your closest friends. There is also something beautiful about practicing in such a large group. You can hear the room come alive with deep breathing and cracking joints. I positively contribute to both as my hips popping are unreal!  🙂
Unlike my usual classes, where I find my balance relatively easy, last night was a bit tricky. I think being in the dark threw me off or at least that is the story that I am sticking with. Regardless of my missing balance, I leaned into practice to get the most out of Elle's unique style which consisted of connecting acceptance of oneself, intention setting and connecting with the world and others as the theme of the class.
Last night was so amazing that I plan on attending Yoga Buzz's future classes. I would highly recommend you checking out Yoga Buzz classes. There are so many unique options to fit anyone's schedule and style such as Brunch and Yoga, Puppies and Yoga and so many other great ideas that introduce to a new location within our city.
If you are ready to have a new adventure with your normal yoga practice, find spectacular St. Louis gems and make memories with friends, Check out Yoga Buzz today!
http://scrumptious.style/wp-content/uploads/2016/08/Yoga-under-the-stars.jpg
678
960
Nicki
http://scrumptious.style/wp-content/uploads/2016/06/ScrumptiousStyle-Logo-300x73.png
Nicki
2016-08-03 17:17:32
2016-08-03 17:17:32
Between the stars - Yoga Buzz